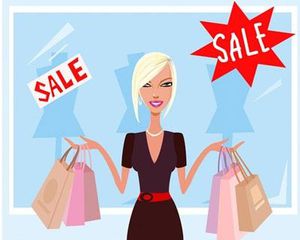 2010 is finished and I am definitely relieved. We must admit that the year just ended has been eventful not always cheerful. Strikes, natural disasters, deaths, wars. I have the unpleasant feeling that the resolutions taken at the beginning of 2010 were not kept. So, I told myself that it was necessary to agree. Our first resolution for 2011 should be the following: making the promise to follow the resolutions we decide to take! Like that 2011 will be better than 2010. But for now, only five days after the passage in 2011, 2011 looks very similar to 2010: indigestion, the disapointment caused by Christmas gifts, hangover that lasts. However, the joys of the 2011 are not far. Indeed, sales start on January 8th to the great delight of compulsive buyers. Forgotten the economic crisis that has tempered our existence since 2008, the price of gasoline that is increasing. Sales are sacred and permit to start 2011 with a new wardrobe. But every pleasure has its limits!
Expend the limited purchasing power is exciting but risky. The current economic situation suggests a rise in unemployment. Then an advice: be careful to temptation! Like the Christmas turkey, we want to be greedy and we guzzler, happy to enjoy a good square meal unrestricted , sales , if they offer a time of delight are linked to frustration. We buy clothes which bead us, we realised that we have take some weight ( because of the Christmas Turkey! ). But reassure us, the disaster can be avoided. Close your eyes , close your purses, tighten the teeth when you see the windows of malls and everything will be fine ( especially your finances) Be strong and courageous ! Say to yourself simply and with conviction that 2011 will not be the year of weak buyer.
Nice resolution to start 2011!
Nadia Hamdani