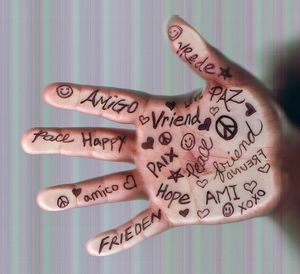 Each New Year is a new beginning. We expect and wait a lot. What can we hope?
Peace? Love? Money? Joy? As usual!
We can dream of world peace, hope that all conflicts are solved. As the Ivory Coast where the
incumbent president Gbagbo does not leave his place. Or the war on Sierra Leone with the ravages. Psychological suffering, children alone in the streets. Or the bomb attack, people who try to solve their problems through force. We hope next year we don't announce bad news and that some problems will be solved.
We can dream of world love, stop the war and help the countries who need it. Or love, like the marriage of England's Prince William with Kate Middleton.
We can dream of world money, the European Union countries in financial trouble find the path to wealth, or that Africa emerged and evolved to the outside world with exchanges.Hope the money for everyone and out of the financial crisis that has hurt our wallets (fuel, prices increase).
Finally we can dream of worl joy, what could give pleasure to everyone is peace. Then, we wish everyone to be happy and enjoy every moment with people you like.
oceane_tlse