How does music influence young people?
Psychological studies show that music conditions teenagers' behaviours. It can have a positive or negative influence, it depends on a lot of things...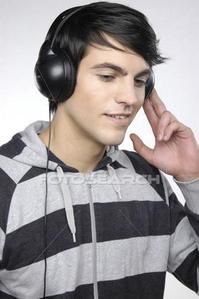 Millions of people listen to music around the world, but this is the frequency that makes the difference. In fact, according to the playing time, professionnals notice a certain change of personality. For example, they observe that sometimes the dress code is affected, so stereotypes appear : fans of reggae music wear baggy, fans of hard rock have a gothic style...
However, it can be simply psychological, especially for youngsters who face problems in their life. They are more sensitive to agressive lyrics which influence theirs behaviours. For instance, people blame Marilyn Manson for having an impact on the actors of the school shootings's personality. Without forgetting rap music, that often uses violent or shocked words in theirs songs, like « motherfucker » or « bitch ».
Nevertheless, certain musics make people more open-minded. It gives new ideas for the actual issues, as environnement in the song « Repire » of Mickey 3D or « Sunday Bloody Sunday » of U2 which talks about politics. There is also the song « Toi et moi » of the band Tryo, which critizes the society. Moreover, it helps to overcome personal difficulties or to find oneself...
Consequently, music is everywhere and touches everybody. Its influence is present in various sectors, with positive or negative effects.


Margot Simsi, Manon Soucasse