About how to extort millions from a celebrity...
David Beckham into sex scandals while Posh is having their fourth child.
Last year, the American InTouch Magazine's cover claimed that Irma Nici's a Bosnian-born call-girl aged 26, slept with David Beckham. The magazine affirmed that their words were based on the prostitute's declarations. The soccer player denied this gossiping and took the magazine to court. Besides in U.S court declarations, Beckham swore he «never met Nici, let alone committed adultery or paid her for sex».
But last week-end, the judge named Manuel L.Real returned the verdict in New-York. The prostitute received compensation raised around 15,5million pounds from the athlete, as David Beckham's lawyers could not prove that the company acted with malice.
The sportsman still claims that he is innocent and that Irma Nici lied about their so-called intercourse.
A new witness just showed-up this week, exactly three days ago, saying that she was used to work with Irma.Then Mrs. Davis, the owner of one of the New York's most lucrative high-class escort operation get involved. Indeed, she refused to disclose the name of this witness who tell the press that Nici, she and Beckham had a threesome with. She stressed aswell that Nici is more determined than ever to cause embarrassment to Becks.This one's willing is to appeal the court's decision.
We must wonder how Posh feels about this new sex affair concerning her husband. In fact that's not the first scandal. Do you think that she can still trust him? That would be better for the whole family knowing that she is pregnant for the fourth time.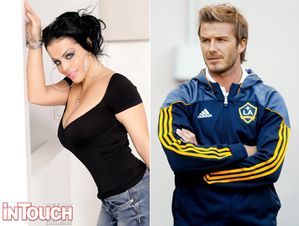 the kettle and Delia