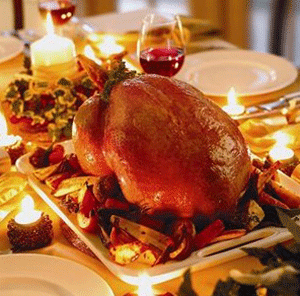 December has arrived, the advent calendar will be able to drool till then Christmas. A chocolate, a day, we can be a little less eager in watching for Santa Claus.
The simililarity between the United-Kingdom and the United States of America, they each have a way to celebrate the Christmas holiday period. In these two countries, Chrismas is an institution which airs of banquet, the meal happens the same day, December 25th.
In Great Britain, the Christmas meal is the most important of the year, it is prepared for weeks in advance. No Christmas without the cracker, a noise of banger resound. After this entertainment for children and adults, comes the first dish, an oyster soup, then the inevitable roast turkey with vegetables. Finally, the famous Christmas pudding.
In the United States of America, the meal is less developped because they had Thanksgiving four weeks before, it's more important. The first dish is built-up of smoked salmon. In the main dish, there are pieces of beef with sweet potatoes. The dessert is a Christmas cake.
The tradition in the USA is to provide a glass of Egg Nog when someone arrives.
Christmas is a share that is celebrated around the world. Each country has its traditions, but everyone is agreement for the festivities.
Emma & oceane_tlse