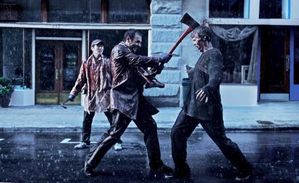 The 2010 Golden Globes of this year brings a few surprises, as usual. But like last year, it's the TV-show Gleewhich was nominated and then won the Golden Globe Award for best television series (musical or comedy) once again. Actors Jane Lynch and Chris Colfer won Golden Globes for Best Supporting Actress and Best Supporting Actor respectively and Matthew Morrison and Lea Michele also received nominations for Best Actor and Best Actress.
What is Glee ? It's a school story. An Spanish Professor at the McKinley high school, Will Schuester, decided to bring back the singing club or "Glee Club" to his past glorious time. So, in the program a lot of songs, romance, humor... Somehow, an happy and harmless TV-show.
But in the meantime, gore has never been so popular on TV. The very popular AMC's The Walking deadis the very example of it: scenes that would usually be reserved for some of the most violent horror movies are popping up in prime time. Blood and guts don't scare anyone anymore. Shows like Dexter or True Blood mix sex and violence. Even a teenage show like The Vampire Diaries ended the previous season with a man's fingers brutally chopped off before he's stabbed in the stomach.
Is the gore still disturbing or do people get used to violent scenes ? Ronnie Karam of the blog Tvgasm.com agree with this idea: "Dexter had dead girls in a barrel all season. It's hard to eat a plate of spaghetti while you watch that. Now, you can watch Food Network while you're eating and turn on some Dexter later ».
Is America too accustomed to violence ? We can note that this year nominated TV-shows like Dexter, The Walking Dead or True Blood have got no awards, but it's Glee, the harmless and not violent one who got it. At least for jury of international competitions, blood and guts didn't win. For now.
Is it good or bad news ? It's up to you.
Christelle Demange