Irish prime minister Cowen survives confidence vote
The Irish prime minister, Brian Cowen, won a confidence vote among lawmakers for the governing Fianna Fail party on Tuesday, assuring that he will lead the party into a general election.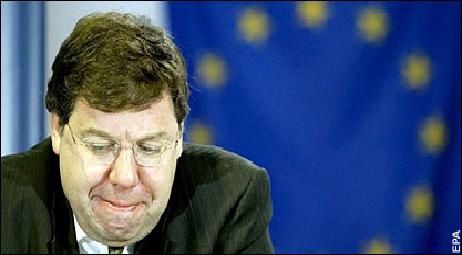 Brian Cowen, under criticism over his handling of the financial crisis, secured his position as leader of the ruling Fianna Fail party, by puting himself up to a confidence vote.
Uncertainty over the party leadership has grown since the government accepted in December a $113-billion (85 billion euro) international bail-out of Ireland's debt.
Foreign minister Michael Martin, who challenged Cowen on Sunday and asked for his resignation, quitted his post after Cowen's victory, saying that « the Taoiseach continues to have my full support as head of the government ».
The exact result of the vote is still unknow, but brian Cowen secured at least 36 of the 71 votes.
Government Chief John Curran confirmed the results and said he hoped that would bring an end to Fianna Fail's issues."The party will be united behind Brian Cowen as Taoiseach. We move forward both in terms of the continuation of the work with a national recovery plan and our preparations for a general election", said John Curran.
Prime minister Cowen announced he wanted to keep his post and seek re-election.
Finance Minister Brian Lenihan claimed he would support Cowen, a key boost after foreign affairs Minister Micheal Martin said Sunday he would not.
Brian Cowen said "I've come to the conclusion that I should continue to lead the party," adding that he believed the decision is in the best interests of the country and "not motivated by personal ambition.
The general election is expected to take place by the end of March.
Ivan PETROS