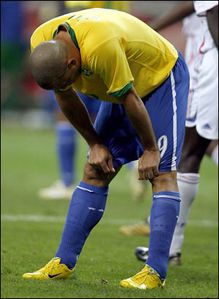 Sometimes adulated, sometimes slandered, Ronaldo (Luis Nazário of Lima) has just announced in the age of 34 years, the end of his career after 18 long years. Just like Argentine elder glorious sound Maradona, the career(quarry) of Ronaldo was marked by some sulphurous episodes. Tempestuous private life, problems of physical condition and wounds in repetition were right of the Brazilian genius.
The crazy striker about the end of the 90s and the beginning of 2000 had made the beautiful days of Cruzeiro EC (58 goals in 60 matches), of the PSV Eindhoven (55 purposes on 57) but especially in FC Barcelona (47/49), Inter Milan (59/99), Real Madrid (104/177) and for the AC Milan (9/20).
He competed his last match in Brazil, to the SC Corinthians last week (36/66).
His career had been disturbed by three injuries in the knees. He was never able to find his level which he had reached FC Barcelona.
Il Fenomeno took away the Golden Ball France Football twice in 1997 and 2002 and named better football player of the year for the FIFA in 1996, 1997, 2002 and European Golden Shoe in 1997 and 2002.
He took to World Cup away in 1994 and 2002, two Copa America in 1997 and 1999 and a cup of confederancies (1997). He will be one of the best strikers of the history and the idol of a whole amateur's generation of football.
What will his future be made now? The Brazilian Ronaldo, who ended on Monday his football player's career, announced that he was going to create an agency in advice and in management of the sports business, revealed his agent to the everyday daily paper O Globo of Sunday.
The agency, which will be called " 9ine sports and entertainment " in reference to N.9 on his shirt for his 18 years of career, will be detained in parity (45 %) by him and his agent, Sergio Amado, also president of the advertising agency Ogilvy. The remaining 10 % will be detained by a local partner. The company, chaired by Ronaldo, will be based to Sao Paulo where " el Fenomeno " played with Corinthians, his last club. We cannot say that he wastes time...
took away the
Golden ball France Football
twice in 1997 and 2002 and named better football player of the year for the FIFA in 1996, 1997, 2002 and Eropean Golden Shoe in 1997 and 2002. He took two World cup away (in 1994, 2002), two Copa América (on 1997, 1999) and a cup of confederacies (1997).
To conclude, a tribute in the one best strickers of the world. Here is the small highlights of 8 minutes of the most beautiful goals and the most beautiful actions of Ronaldo, enjoy
Zitouni Charles & Meynard Jordan