Spotted : the new French national away team shirt, by Nike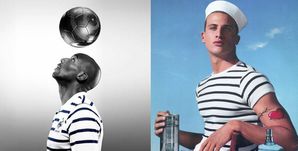 the new striped shirt on the left, an advert campaign from Jean Paul Gaultier on the right.
Nike introduces the new French football kit, combining elegant design, innovative performance and
environmental sustainability; but it sparks off a little scandal.
The new away jersey takes strong visual cues from the 'marinière', a piece of French history since the last century, and now a timeless French style icon. The 'marinière' first appeared as the uniform of sailors in the French navy in the 19th century and was first seen in civilian wardrobes in the early 20th century.
It's not sure to have unanimous support
There is a problem because it takes visual cues from fashion industry too. The reflection of the 'marinière' is associated with the « Queer culture », in other words the gay community. And it could bother the straight football lovers. This stripped style was reserved for sailors and icons of fashion as "Coco Chanel" or "Jean-Paul" Gaultier in the 80's.
Soon, it will become a symbol of French culture, adopted by free-spirited individuals in France and beyond.
We just can hope that the 'marinière' is not a bad prediction of sinking for the French football team.
The new kit will be available on May 1st 2011.
Lionel Nicaise.