The qualities of education in the Chinese shock America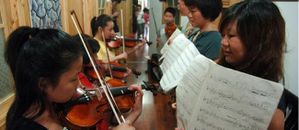 With her book The Battle Hymn of a mother tiger, Amy Chua has created controversy in the United States...

Besides, the Bogeyman seems to be a sugar daddy. In a book that makes a lot of noise, Amy Chua tells how she educated her daughters "the Chinese way " , much higher, she says, to occidental devices. This law professor at Yale does not hesitate to treat her daughters "waste" or "boots" if they had not get an A, forbids them to go to play with some friends or watching TV, forced to play the piano and violin (the only noble instruments) for three hours a day and refuses the birthday card that she had drawn on the pretext that it is sloppy...

With amazing self-confidence, this daughter of Chinese immigrant tells her tyrannical methods as if they were absolutely normal. « The Chinese mother believes that : (1) the duties come first, (2) an A - is a bad grade, (3) her children should have two years ahead of the rest of the class in math, (4 ) she should never compliment her child in public, (5) if the child disagrees with their teacher or coach, she should always take advantage of the teacher or coach, (6) only activities that her children should be allowed to do so are those in which, ultimately, they will earn a medal (7) this should be gold medal. » Chua admits that education does not always bring happiness, and she does not know very well "enjoy life"...

Rude ? Yes, but why so many Chinese are piano prodigies or geniuses in math ? This is the question asked the author of The Battle Hymn of a mother tiger. This is because their parents are passing the foremost concern for excellence. American parents are laxists, drown their offspring in compliments not to hurt their sacred confidence, which leads to mediocrity and does not prepare them for the realities of life.
Mylène Lagarde