The tennis give back the smile to Australia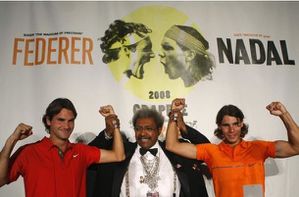 After the terrible inundations which stroke the country at the beginning of the year, another upheaval floods in Melbourne's streets. But neither dead or wounded persons this time. Just pleasure and smiles for the town which can admire the best tennis players of the world for two weeks. In fact the 96th Australian open has started this week. It's the first big gathering of the year for both players and fans, because it is one of the four Grand Slam tournaments, that is to say the upper crust of this sport.
Who will dethrone the king Roger Federer? The Swiss is once again the great favorite, such as his eternal rival Rafael Nadal, who won the 2009 edition.
Concerning the outsiders, For sure the Serbian Novak Djokovic and the Scottish Andy Murray will be two serious challengers, and they are able to create the surprise.
And what about the Frenchies? Of course none of them will won the tournaments, because they never win anything. In fact, the last French winner of a Grand Slam tournament is Yannick Noah at Rooland Garros in 1983! An eternity...
But let's be chauvinistic and believe in our musketeers. The best won their first match. Gael Monfils and Jo Wilfried Tsonga hardly managed to pull themselves at the second round, defeating their unknown opponants in 5 sets. Cocaine Richard Gasquet won two matchs but the next step against the Czech Thomas Berdych will be hard. But not as difficult as Gilles Simon. The French, who easily defeated his first opponent, has got the bingo. He will defy the King Roger himself. But everything is not desperate. As incredible as it could be, Simon played against the Swiss twice...and he won twice...
Anthony TALLIEU