The thorny problem of the crochet dress
Have you ever wondered whether the crochet hook has its place in your wardrobe?Of course yes. No doubt this technique as old as the world haunts us all. But there are still some reservations against it.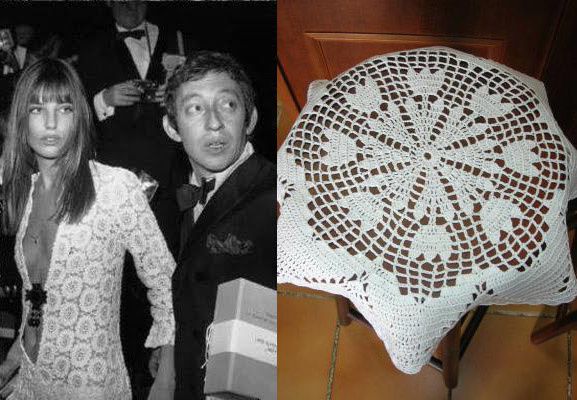 Arsenic and Old Lace. That just comes from the fact that the day we said, lost in the shelves of department stores : "I let myself did try" ... Back to our memory, hopelessly, this little doily that granny poses on his TV. It appears that it is chic.Nevertheless, the crochet hook, we know it. From the twentieth century, Great Britain, the United States and France, the crochet is used as a substitute less expensive than the lace. He knows as a success until the1920s. Lost in the inter-war period, it becomes fashionable in the 1940s, out of sheer necessity. And in the 1970s, crocheting knows its coming. Legacy of May 1968 where it isavailable in shawl, but resumed in the seventies a more naughty... The hook is soindiscreet and reveals the intimacy of Jane Birkin, for example.You'll understand that the doily is here soon forgotten. The crochet is cool, sensual, naughty. And when you think that the 1980s would have banned it, the crochet becomes a must when Vivien Westwood created a colored crochet sweater for a famous band. He became a fixture of punk world. So you'll understand, a quick glance on the world fashion week, the hook returns. But in2011, we will not look to dress like TV octogenarians or sloppy like punk star. No, in 2011, the hook is sexy, he finds his nature seventies. It represents freedom, lightnessand desire. Why? Because there isenough dark, sad and distressing things in this spring.
Marine Decremps