A prince, a girl and a ring.
The most long-awited day has come. The Royal Wedding of Prince William and Kate Middleton was annonced yesterday. The press gets wilde !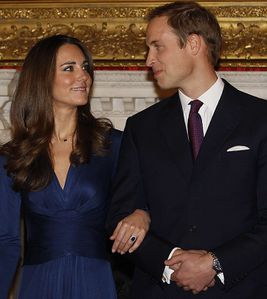 The Daily Telegraph, the Sun, the Times, BBC News, The New York Times, USA Today, The Australian... The news have spread all over the world. Since yesterday a big earthquake is shaking the people's planet. Epicentre : London, Clarence House. Cause : announcement of a Royal Wedding. I know what you are thinking "No way ! It's impossible ! He is never going to ask her the question !" Actually,... He finally did ! Yes, Prince William and Catherine Middleton, also known as Kate, together for seven years, said that they were engaged since last October. Sorry girls. I know. We all dreamt about our wedding with William when we were young. Dreaming of the wonderful white dress, the train, the ring. By the way, let's talk about the ring. Guess what? Our dear Kate received Diana's engagement ring made of saphire and diamonds.
But after a little time of reflexion, we can't be mad at her. Actually, Kate is a middle-class and she knew how to win the Prince's heart and England's favours too. Queen Elizabeth II and her son, Prince Charles, said they were absolutely delighted when they heard the news. Prince Harry is also happy for the future wedding, even if he's alone for the moment. Hey girls, don't you like tobe his date for the ceremony ? Stop crying, go get the most amazing dress. You have be all dressed up ! Maybe you will be the lucky one and will be offered a ring as wonderful as Kate's.
The kettle and oceane_tlse